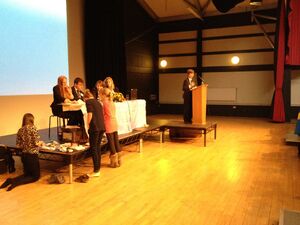 Students taking part in Model United Nations can be assigned many different roles.
Delegates make up the majority of student participants, they each represent a specific country in a specific forum or committee. Delegates, when grouped by their countries, are known as "delegations".
Student Officers
Edit
One of the most exciting aspects of MUN conferences is that the students are expected to do the majority of the organisation and administration. Student officers will be appointed and be given specific tasks to bring the conference together. During the actual event, they will be leading committees and registration. These students will see obvious benefits in the form of a whole myriad of leadership and organisational skills, in a very flexible environment; they will have the power to use their initiative and shape the conference as they see fit.
Student officers could be grouped into four categories:
Administration (or Admins) – the organisational aspect of the conference. Admins will be expected to liaise with other schools and process applications, produce name tags and make sure each delegate has a welcome pack and a placard. During the conference itself they are often given the rather unenviable task of "note passing".
Chair Persons – the most visible and perhaps prestigious jobs during the conference itself, Chairs will run the actual Committee sessions and the General Assembly and as such be busy for the majority of the day.
Security – the job does not only involve removing law-breaking delegates. Security will act as wardens for the entire conference, overseeing parking arrangements, lunch queue supervision.
Press - some larger conferences publish daily newspapers, engage in blogging, and even have live TV feeds. A press team is required to write, produce, and print news bulitens, to take photographs and to interview selected delegates.
Technicians – Committees require PCs, projectors and perhaps even microphones, loud-speakers and lighting in specific cases. Techies are on hand to arrange this and fix the inevitable breakdowns.
Web Technicians - These can be the same students as those above, but some conferences have rather impressive webpages, forums, twitter feeds and facebook groups. All of these things require constant maintenance and administration.
Leadership Opportunities
Edit
Each of the teams of student officers obviously needs a leader to oversee and guide their respective mandates. Not all of these positions will be required for all conferences, but many may include:
Secretary-General – running the entire conference, and as such will be involved with the organisation from a very early stage.
Deputy Secretary General – if needed to reinforce the Secretary General.
Head of Administration – responsible for mailings to and from schools and collation of registration information, will also be involved from the very beginning.
President of the General Assembly – leads proceedings on the day, including chairing the General Assembly.
Deputy President of the General Assembly – will aid the President with regards to chairing the General Assembly, no other real job.
Heads of Security, Press and Technical Services – leading their respective teams.
Community content is available under
CC-BY-SA
unless otherwise noted.